Your hair and makeup trial for your wedding is a pretty big deal...
It's where you get to work with your makeup artist/hair stylist to get the right look for what's seen as one of the biggest most important events in your life. Marrying the lurve of your life!
You want him/or her to see you and think Wow! Just Wow. They no doubt love you regardless, but you still probably wish to look your very best and that is why you have booked for a professional makeup artist and hair stylist to get you ready.
So here are some tips to help you prepare yourself for your hair and/or makeup trial whether it be with myself or somebody else.
1. Have a rough idea + images.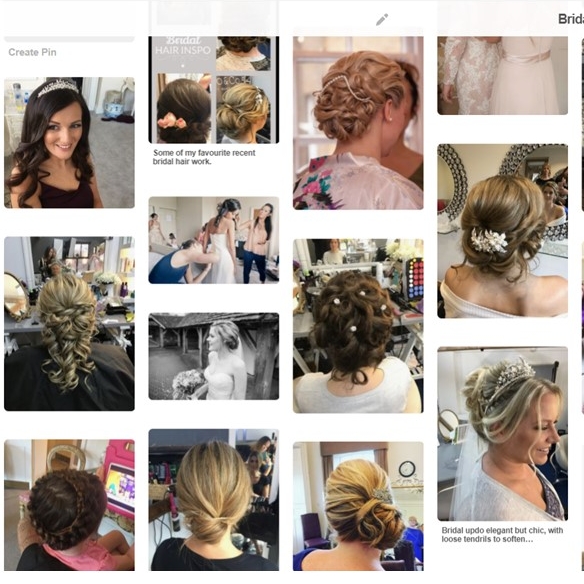 Get an idea of what you like. Some people already know and are keen hair and makeup enthusiasts and some are not. It really doesn't matter either way, but it is always helpful to have some pics ready to show at your trial. A great way is to use pinterest, instagram or just plain old google and screen shot some pics on to your phone/pc. Even images where you only like the eyes but not the lip colour is ok to show as it still helps to build a picture for your artist and a starting point. Bare in mind several things though, your skin tone and colouring may be completely different to the images you like, so you may not actually like the look on yourself in the end.
3. Be honest.
It is ok to say that you are not sure at your trial. You should never feel obliged to settle at your trial or on your wedding day. A good hair and makeup artist will be able to tweak and fix it a bit at a time to get it right. If the makeup looks too heavy and unnatural to you then say, it does not have to look like that to look good in a photo, or last the day. At the end of the day you must feel comfortable in your skin on your wedding day. You will be interacting with people the whole day and you do not want them to find you unrecognisable or even worse unapproachable!
2. Be open minded.
The trial is to try things out. So with these images your artist can build a picture of what they think you are aiming for. Don't be afraid to say you aren't sure and get them to tweak the hair or makeup. Best to do this at the trial and NOT on your wedding day. If eyes are too dark, get them lightened, if the eyeliner is too winged, see what it looks like less.
3. Eat and drink well.
Do this a month before and if not then the week before....anything even! This will help you get the best skin and hair possible. That means minimal processed foods, lots of fresh fruit and veg and water! It really does work because your body can then concentrate on regenerating new skin cells and hair regrowth rather than trying to break down and get rid of those alien ingredients that you have just consumed. Please give it a go, (you will feel more energised and sleep better....and all those other wonderful healthy feelings) but be patient it takes 3 weeks to start seeing results.
4. Come with fresh clean skin.
Come with minimal makeup on (if you can't it's ok too, they can take it off) or just clean moisturised skin. Ensure it is an oil free moisturiser. If you are unsure about it then leave it off and take it with you to the trial and check with your mua (makeup artist) who will suitably moisturise for you and advise. You want an oil free product as this can cause a barrier to your skin and also may make your makeup slide off easily.
5. Wash your hair the night before.
Wash night before and blow dry or dry naturally with no products, unless you have curly unruly hair then yes maybe use your curl tamer. So not straighten or style as this will make it very difficult to restyle into different looks at your trial. If you cannot bear not washing it then wash on the day but ensure it is bone dry and not straightened. Read this blog for more info on how to prep hair.
6. Bring veil + accessories
If you are thinking of having hair accessories and have bought them already do remember to bring those with you to the trial. If you are unsure of what then have a look at some pictures or wait to see what style you decide on and discuss with your MUA/stylist what might look good and suit you. Some brides like to incorporate sentimental jewellery or original vintage pieces that they have so please bring these along.
7. Wear white or light coloured top
You do not always get to have your hair and makeup trial and dress to try on all on the same day. The majority of my brides have their dress fittings still to come, and although you can try and get this all done on the same day, it can be rare. So, do wear a light or white coloured top, or something close to what your wedding dress will be like, so that you get a good idea of what your final look will be like. If you can wear a strappy vest top even better, unless your dress is pretty covered of course. In which case it does not matter.
If you have found this useful or if there is anything you are still unsure of or want to check then please feel free to comment below.
For all you wonderful future brides, good luck with your hair and makeup trials. It should be an enjoyable experience where you leave feeling super special and even more excited about your BIG DAY!
Good Luck!
Jen xx